A themed book tour through Prism Book Tours.
The Cinderella Theorem

(The Lily Sparrow Chronicles 1)

by Kristee Ravan

YA Urban Fantasy

Paperback, 367 pages

March 17th 2014
Fairy tales are naturally non-mathematical. That is a fact, and fifteen-year-old Lily Sparrow loves factual, mathematical logic. So when her mother confesses that Lily's deceased father is (a) not dead, (b) coming to dinner, and (c) the ruler of a fairy tale kingdom accessible through the upstairs bathtub, Lily clings to her math to help her make sense of this new double life (1 life in the real world + 1 secret life in the fairy tale world = a double life).
Even though it's not mathematical, Lily finds herself being pulled into a mystery involving an unhappy Cinderella, a greasy sycophant called Levi, and a slew of vanishing fairy tale characters. Racing against the clock, with a sound mathematical plan, Lily attempts to save her fairy tale friends while proving that normality = happiness.
Tara's Review
Ravan has created an elaborate fairy tale world unlike any I've read about before. The Cinderella Theorem is not a retelling of A fairy tale, but a retelling of ALL fairy tales.
I'm an adult who enjoys YA literature, as long as it's well written YA literature, as The Cinderella Theorem is. And I'm a big fan of fairy tale retellings – I love seeing what an author can do with a classic story and reading about beloved characters I grew up with having new adventures. And I'm also a bit of a math geek (although the main character, Lily, has me beat in that department). My college majors were language arts and math, so a YA fairy tale retelling with math = book reading happiness for me!
Many teenage girls would be thrilled to discover that they're actually a princess of an entire kingdom (a world, actually, but kings and queens and princesses go with kingdoms, so that's the word we'll use). Imagine having tea with Cinderella, and then receiving a package personally prepared for you by Prince Charming. Or dancing with the Little Pig who made his house out of bricks. Or having your very own fairy godmother whose wand shoots plaid sparks.
Lily, however, is rather stuffy and stodgy for a fifteen-year-old girl. She's very grounded in logical reality and plans to either do pure mathematics research at a major university or become a code breaker for the National Security Agency when she grows up. Lily uses math to think, to rationalize, to problem-solve real-life (and fairy tale life) situations. When she discovers her dad isn't really dead but rather the King of a magical fairy tale kingdom, she uses math to recalculate her family structure as she contemplates the implications. When Cinderella is Less than Happy, Lily devises a mathematical equation – The Cinderella Theorem – to determine how to help Cinderella become Happy.
Lily is not a static character, however. She starts out as extremely logical and somewhat rigid in her thinking, especially for a teenager. She wants everything to be "normal," and tries to make her environment adapt to fit her own personal beliefs of the way the world should be. But Lily is a smart girl, and throughout the course of the book she gains knowledge and insight into life. Her narrow definition of normality (which was heavily challenged by learning about the very existence of a fairy tale world) is expanded upon, and she learns to be more flexible in her thinking. The personal growth and development of the main character is an important aspect of a good YA novel, and it's great when you discover a writer who can portray that without being excessively didactic and overbearing about it.
This is one of the best-written and best-edited books I've read recently. As a reader I really appreciate the high quality of the editing – too often lately I've been reading books that were "good stories but could have used another editorial go-over." There were very few actual errors/typos (minor things like misspelling Schrödinger as Shrodinger – I don't count the missing umlaut over the o as a misspelling per se, but I do count the missing c). The characters are well developed (and fun!), the plot is entertaining and very creative, the writing flows well, the dialogue is natural sounding and true to the character who's speaking, and it's overall just a good, fun read. I was also geekily excited that Lily shares information about Pi Day (March 14th – 3/14 – because pi is 3.14159… get it?) I'm looking very much forward to The Lily Sparrow Chronicles Book 2: Calculating Christmas (no projected release date that I can find yet, though).
One important note to readers: It's important to remember that this *is* a YA book (Amazon lists it as for ages 10-18/grades 5-12), so don't go into it expecting a story written for adults. If you do, you may find yourself disappointed… but if you go into it expecting a fantastical YA story filled with math and magic, I think you'll fall in love!
Amazon
Calling for Reviewers!
We're looking for reviewers! You don't need a blog to sign up, but you do need to at least post a review on Amazon. Other sites (blog, Goodreads, etc.) are also appreciated. Reviews must be completed by the end of November. To sign up, please fill out this form.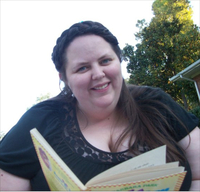 Kristee Ravan lives in Oklahoma with her husband, daughter, and pet fish, Val (short for Valentine). She wanted to be many things as she grew up including a general, an artist, and an architect. But she never bothered to say, "I want to be a writer when I grow up." She was always writing stories and thought of herself as a writer anyway. She sent her first story to a publisher in the sixth grade. (It was rejected – in a nice way.) When she is not making up stories in her head, she enjoys reading, juggling, green smoothies, playing dollhouse with her daughter, and hearing from her fans. You can contact Kristee at the facebook page for her Lily Sparrow books: The Lily Sparrow Chronicles.
Website – Goodreads – Facebook – Amazon
Interview with the Author
What inspired you to write The Cinderella Theorem?
On my recommendation, my sister stayed up all night reading Ella Enchanted by Gail Carson Levine. (I recommended that she read it, not that she stay up all night.) The next morning, at breakfast she said, "You should write a book like that. Something with Cinderella." My sister loves Cinderella.
So the idea of a Cinderella book was turning around in my head.
A few weeks after that, my college roommate confused two really well-known fairy tales in a casual conversation. My roommate also happened to be a math major.
Then the story stared clicking. What if someone who was clueless about fairy tales and loved order and logic found herself the future ruler of a magical (illogical) fairy tale kingdom?
If you were to adapt this book for the big screen, who would be in your dream cast?
I'd like a young Richard Armitage to portray Levi. (Think his Guy of Gisbourne days on Robin Hood.) I know he's not an actor, but when I saw Charlie White, the Olympic ice dancer, he was exactly what I'd pictured for Lily's dad, King Matt. Charlie McDermott from The Middle has the right look for Calo, but I've only seen him as Axl, so I don't know if he could be Calo. I would have Ed Helms be in the Bremen Town Musicians, since he sings so well. I could see a young Tina Majorino (from Veronica Mars) as Lily (but with blonde hair). She's got the right kind of tone for logical Lily.
What are you reading right now?
Jane Eyre and Jane by April Lindner. I introduced my Aunt and Uncle's family to Jane Eyre earlier this summer through my favorite miniseries of the book. (The one with Toby Stephens). It made me want to read the book again. And I decided to read it in tandem with Jane, which is a really awesome retelling of JE, but set in modern day America. Mr. Rochester is now a rockstar and Jane is his nanny. It's super good.
Which five characters from novels would you like to have dinner with?
Anne (Shirley) Blythe from the Anne of Green Gables books. I like Anne a lot; I'm always sad when I finish an Anne book and I remember that she's a fictional person and I can never meet her.
Amelia Peabody from the Amelia Peabody books by Elizabeth Peters. I love this series. Egyptology is a hobby of mine and I'm always up for a good romp with the Emerson clan.
Artemis Fowl from the Artemis Fowl books. He's bound to be a good conversationalist and one thing might lead to another and we could have an awesome adventure.
Morwen, the witch from Dealing with Dragons. She's so down to earth and practical.
Junie B. Jones from the Junie B. Jones books. What a hoot! Plus also, she'd liven up any dinner party.
What was your favorite book as a child?
Probably Starring Sally J. Freedman as Herself, by Judy Blume. It was the first novel that I read all in one day when I was about eight. I loved it. I loved that Sally imagined things, like I was always doing. I loved that she lived in Florida, where I did. I loved that she had moved, like me. I loved the hints in it about segregation and the holocaust—I was a little kid like Sally, and like Sally I didn't fully understand those things. I read it quite a few times growing up.
What's an unusual quirk that you have or something unique/interesting about you?
I like to rotate my clothes so that they are worn evenly and they don't feel left out or like they aren't my favorite. Similarly in the realm of personification, I think my printer hates me.
Tour-Wide Giveaway
5 copies of The Cinderella Theorem (print for US winners, ebook for international winners)
Ends August 31st
Follow the tour!
August Dates:
11 – Launch
12
13
14
15
17
Letters from Annie (Douglass) Lima
18
The Crazy Antics of My Creative Mind
19
20
21
22
24 – Grand Finale