Summary: Fourteen-year-old Abbey Sinclair likes to spend her afternoons in the physics lab learning about momentum and gravitational pull. But her practical scientific mind is put to the test when her older brother, Simon, discovers a mysterious path of stones that allows them, along with Abbey's twin, Caleb, to travel back and forth between their world and what appears to be…the future. Unfortunately, they're not the only ones who know about the stones, and they soon realize their lives are in danger from a man known only as Mantis. Abbey, Caleb, and Simon must follow a twisting trail of clues that will lead them from their autistic neighbor, Mark, to a strange professor who claims to know the rules of the stones, and to multiple futures—some of whose inhabitants don't want to stay put. It will take all of Abbey's analytical skills to unravel the secrets of the stones, uncover the threads that tie the futures together, thwart Mantis's plan, and, most importantly, keep her family alive—now and in the future. A Pair of Docks explores Einstein's Theory of Relativity, the meaning of time, the potential for parallel universes, and the boundary between science and witchcraft. It is the first novel in the Derivatives of Displacement series.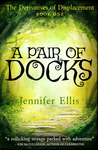 A Pair of Docks by Jennifer Ellis
My rating: 5 of 5 stars
If you hadn't figured it out from the name of my blog, I'm a little bit of a math geek. Just a little bit, though – I'm smart enough to be interested, but not quite smart enough to handle advanced concepts. (Maybe I could have before I had kids and my ability to think was replaced by the ability to change a diaper with one hand while refilling a sippy cup with the other all while singing "Twinkle Twinkle Little Star" twenty times in a row!) I actually double majored in elementary education math and language arts in college, so a book with math and science is right up my alley.
A Pair of Docks is a middle grade sci-fi adventure, the first novel in the Derivatives of Displacement series.
Abbey is a 14-year-old math and science genius (as in, really a genius – she has a 165 IQ!) She has a twin brother, Caleb, who's as gregarious as Abbey is bookish, and an older brother named Simon who's a computer whiz. Another important character in the story is Mark Forrester, the children's adult neighbor – Mark has Asperger's and is an expert on coastlines. He's also somehow involved in the odd happenings that the children find themselves in the midst of – starting with some stones in the forest that cause Simon to disappear when he touches them.
As it turns out, those stones transport Simon (and his siblings) to another world – the children aren't sure at first if they're in a parallel universe or if they've jumped into the future, and I'll let you read the story yourself to discover exactly where/when the stones took them.
I really enjoyed Ellis' ability to portray her characters realistically, in particular Mark – as the mom of two children on the autism spectrum, Ellis seems to have more than a basic understanding of ASD and created a character on the spectrum who isn't just a stereotype, and who is critical to the storyline. Ellis' worldbuilding is also top-notch – all of the worlds she created.
As an adult, I very much enjoyed this story – Jennifer Ellis doesn't "write down" just because this is considered a middle grade story; the writing is high quality and intricate enough to keep a reader interested, from pre-teens who enjoy trickier plots all the way up to adults like me. There are heavier science concepts described in the story (Abbey talks about chemistry and physics and in fact orders her personal world using her scientific knowledge), but you don't have to have a deep scientific understanding to appreciate the story – you just have to know that the topics are important to Abbey. If you read and loved Madeline L'Engle's A Wrinkle in Time – or have a child of your own who's a fan – then this is a must-read!
I received an ecopy of this book in exchange for my honest review; all opinions are my own.